Hilton Moving and Storage operates from 30,000 square feet of dedicated moving and storage space at 3500 Shearwater Street in Naples, Florida. This new expansion positions Hilton as one of the most well equipped Naples Florida moving companies. It is our goal to earn your business by demonstrating that we are the only Naples Fl mover you will ever need. The right mover for the right job, we will put our vast resources to work to exceed all your expectations. We finished our expansion last year. Do you think Mike Hilton is content with running the biggest moving company in Naples? Not a chance…Mike is already looking to expand his moving operations with yet another building and more trucks.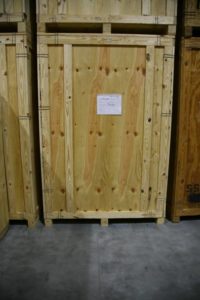 While you are moving or renovating your home, it is critical to have a secure place to move your belongings if  you are remodeling. We offer a new air-conditioned and secure storage facility for your belongings. Leaving your items in a work area exposes them to damage and clutters the work area, making work slower and more difficult. A separate storage facility will keep your items safe and organized, while the work area remains clear and unobstructed. Hilton Moving and Storage is an ideal choice for this need. We will hold your items in our Naples storage facility until your project is complete. With our organized and detailed inventory lists, rack systems and storage vaults, you can finish your project smoothly.  Whether it is short local storage or long term storage, Hilton's Naples Storage facility is equipped with two full-time warehouse managers and helpers to assist in any way. 
Hilton Moving and Storage is unique in our capability for commercial receiving and delivery services. Businesses of all sizes need storage for inventory, advertising materials, decorations, records, and more. Whether you need temporary storage services or long term storage, Hilton is ready to accommodate your business. We prepare detailed inventory of our client's items, organize, and store the belongings safely until they are needed. Southwest Florida area designers in particular benefit from Hilton Moving and Storage's services. When furniture and other items are typically received from overseas vendors and/or manufacturers, designers need a single organized storage solution. Hilton Moving and Storage is proud to be that solution. Local designers can store items for their client's homes safely without infringing on showroom space.
When shipments are received our warehouse managers and helpers open, inspect, inventory and store the belongings within our Naples storage facility until time of installation.  With 30,000 square feet of dedicated air-conditioned storage space, we have the perfect operation to manage residential storage and commercial receiving and delivery.  Accessibility to pull and review newly purchased receivables is just a phone call away to schedule a time with our warehouse managers to review any belongings. Whether you need temporary storage for your home furnishings during renovation or you are a commercial client seeking long-term inventory storage,  Hilton is here for you.
Think of Hilton Moving and Storage as your flagship for the wine storage business


Our beautiful new facility has been serving Southwest Florida for most all their storage needs and that is not limited to household items. We also have a large wine storage vault that securely and safely stores most any wine collection.
Hilton had many requests over the years for wine storage and we listened, we now boast a beautiful computerized wine storage facility complete with back up generators.
Providing the perfect environment 55 degrees Fahrenheit, Humidity and Light controlled. Hilton is now the standard for deluxe Naples wine storage with affordable rates.
Our Naples wine storage includes a state of the art security system and over 20 cameras monitoring our 30,000 square foot facility with backup power control systems.
Call Hilton Moving and Storage today to check our capacity and get a rate for most any quantity of Naples wine storage.